Family Summer Events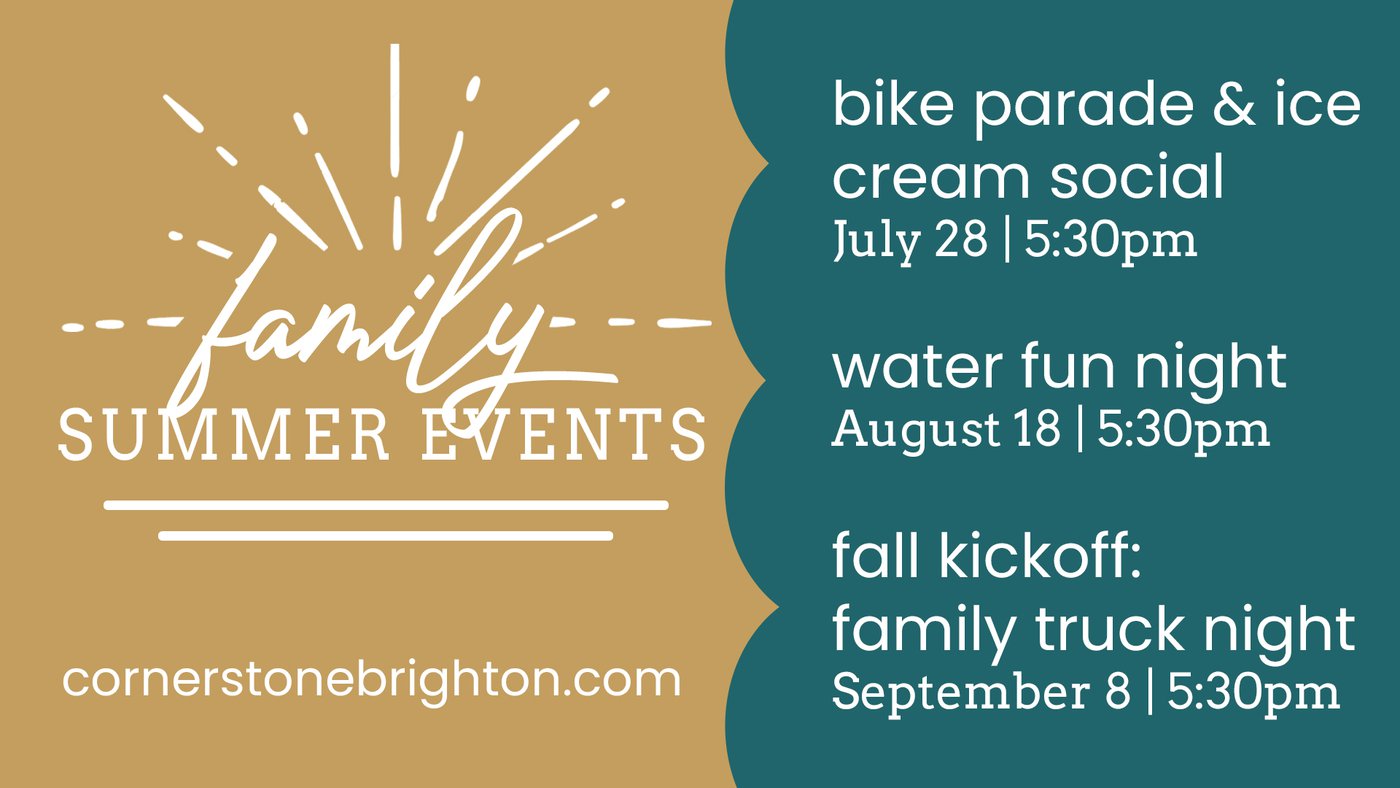 Summer Family Events
July 28, August 18, & September 8 || 5:30 PM
We're so excited to spend time with one another this summer!
These three all-church family events are a great way for you to participate in fellowship with your church family.
____________________
Military Ave. VBS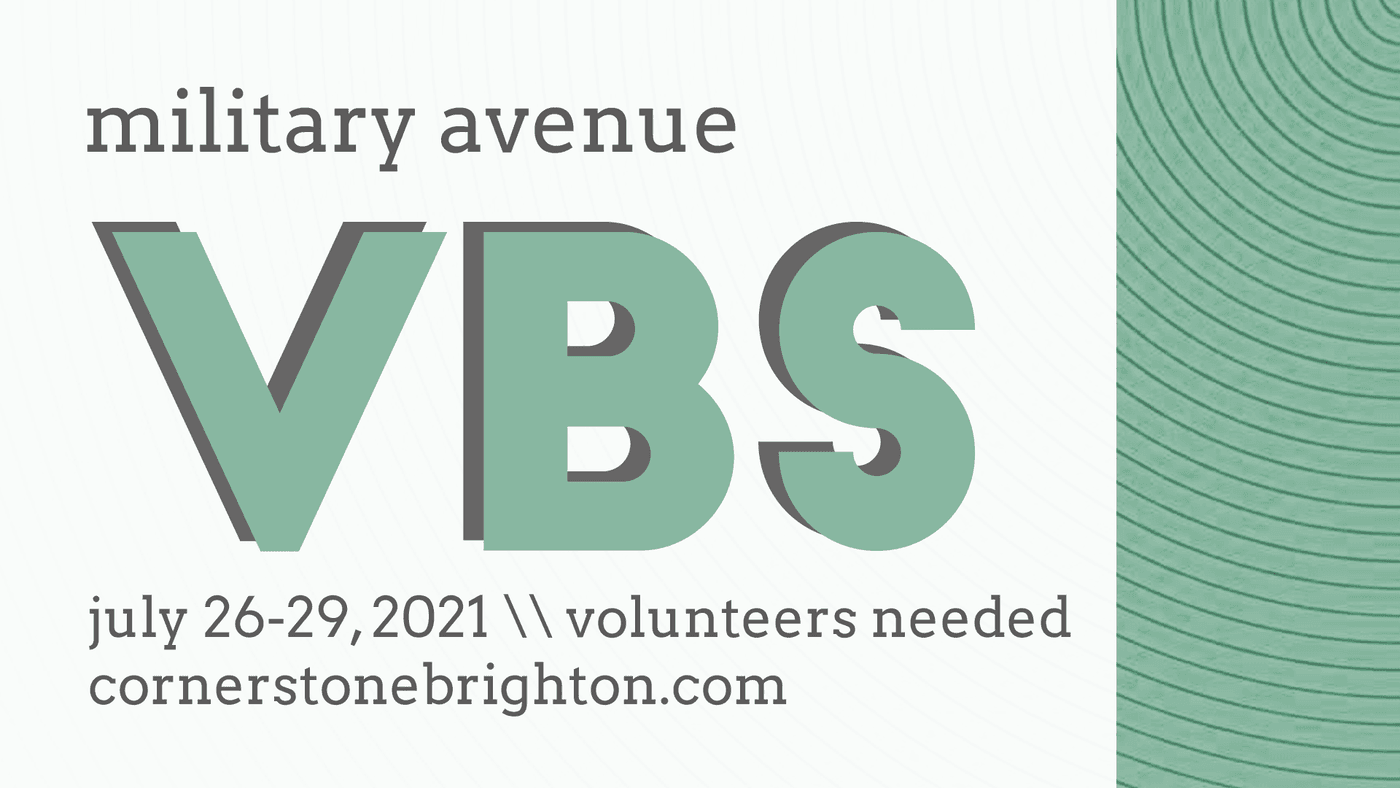 Military Ave VBS
July 26-29, 2021
We are so excited to serve our neighbors in Detroit by helping host the annual Vacation Bible School at Military Avenue Church! To make this event happen, we need your help. As many days as you are able to serve would be a blessing. Volunteers will meet at Cornerstone at 9:30 am each morning to carpool to Military Ave Church. You will return to Cornerstone at approximately 4:30 pm each afternoon.
____________________
Volunteer with Worship Arts & Tech!
Worship Arts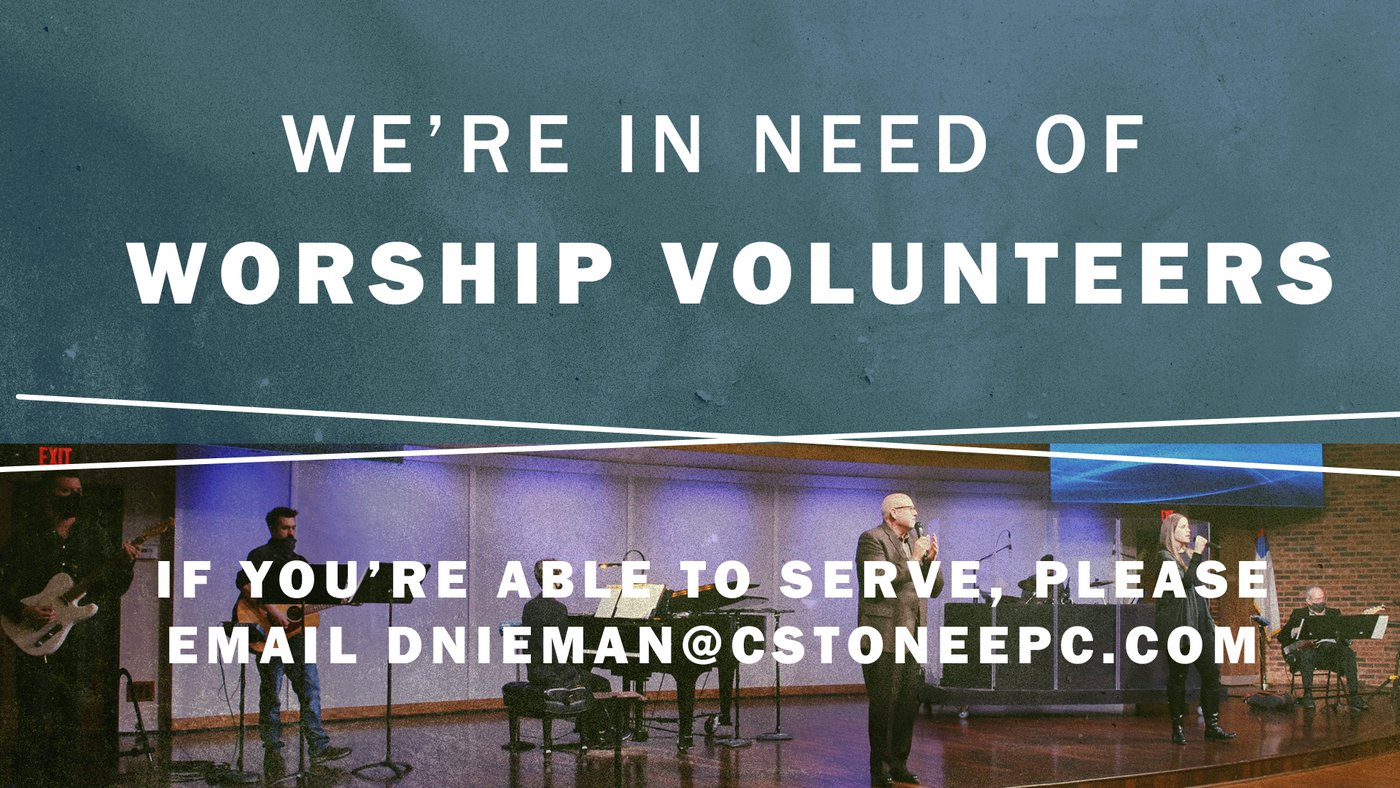 Are you hiding your artistic or musical talents under a bushel basket? Do you want to glorify God using your skillful eye, hands, voice, or ear? Cornerstone Worship Arts wants you to be involved in our community as we strive to emulate our creator using our God-given talents to create beauty and worship Him. You can get involved by emailing Don Neiman at dneiman@cstoneepc.com
Tech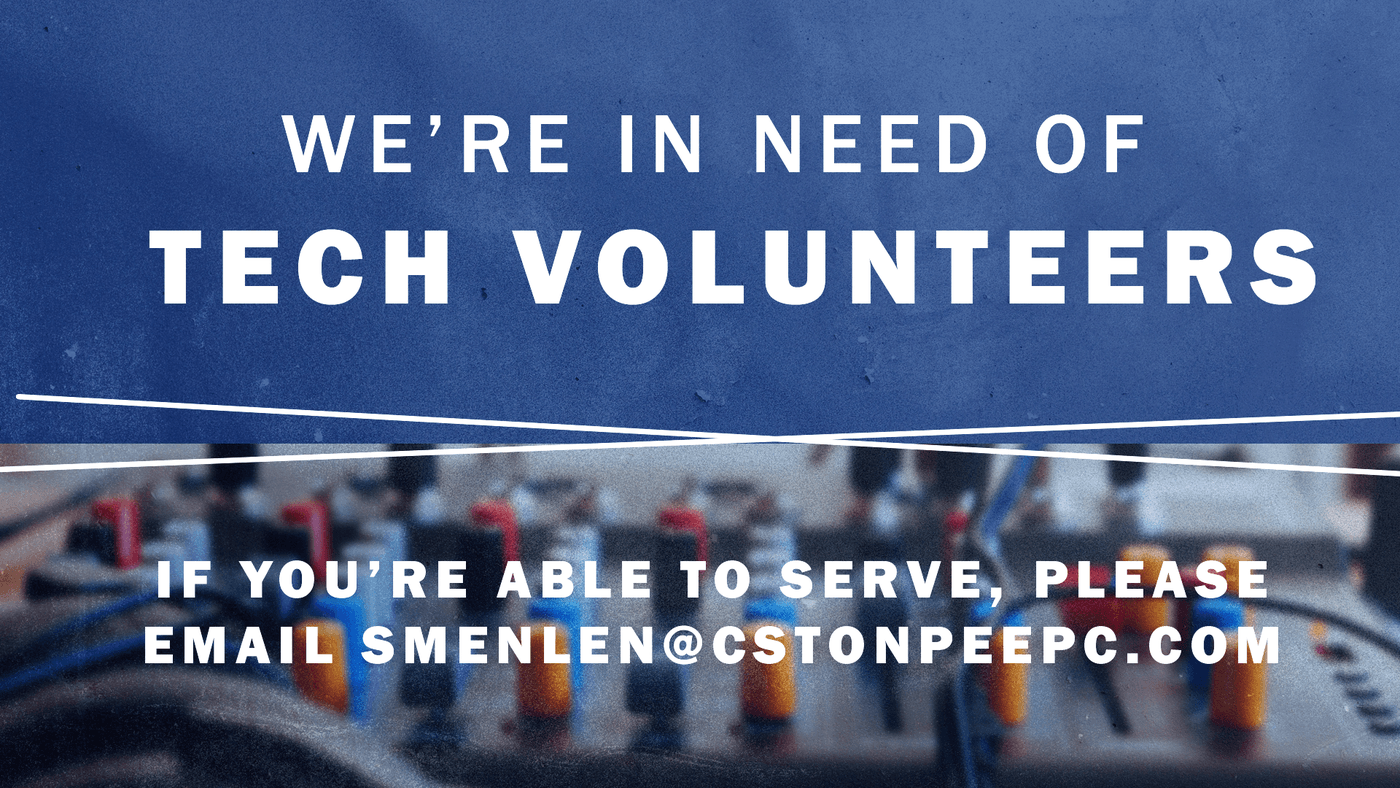 The Tech department is looking for volunteers. These behind-the-scenes roles are vitally important to the Sunday morning experience as they aid the congregation in smoothly entering into worship. if you are interested, please email Steve Menlen at smenlen@cstoneepc.com
____________________
Stephen Ministers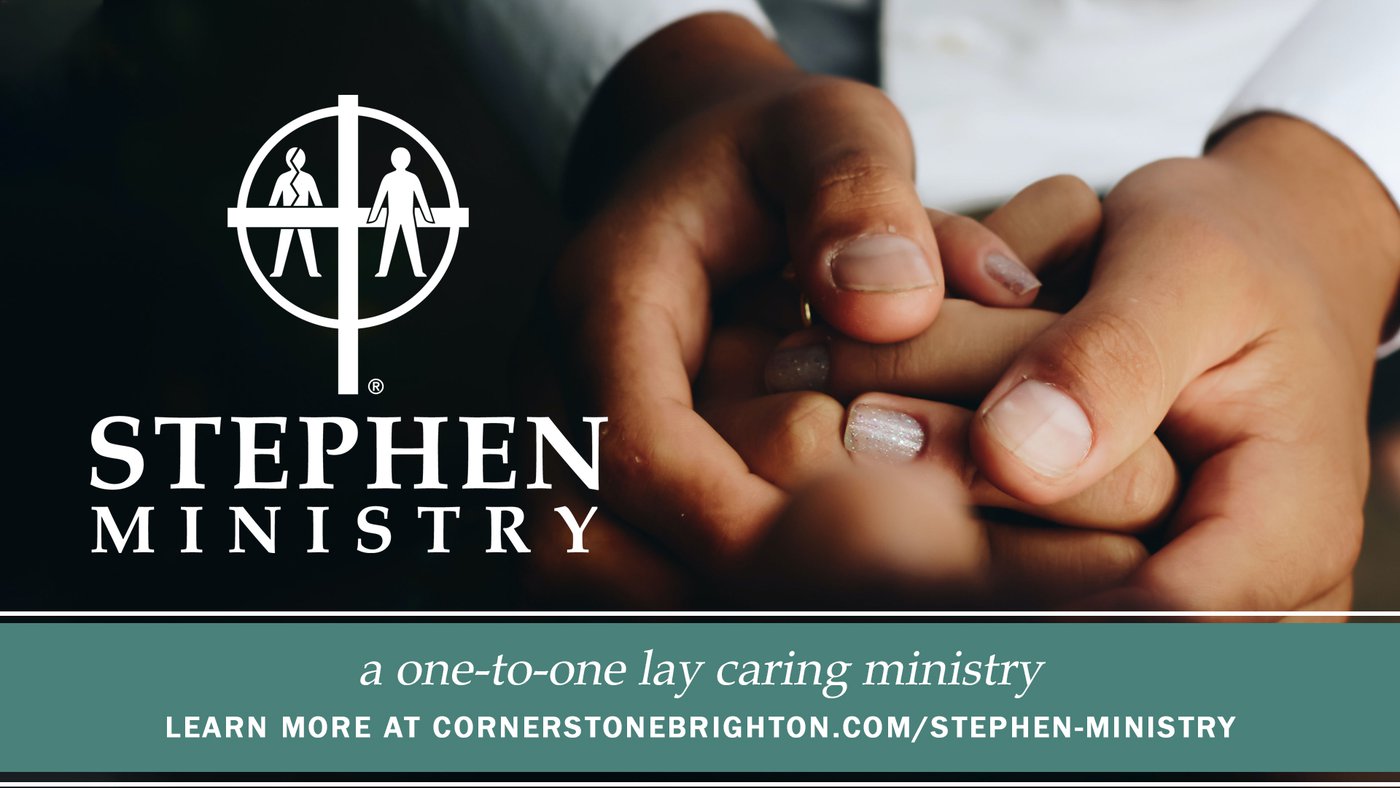 Training for new Stephen Ministers begins this September.
Stephen Ministry is a program that provides trained men and women to meet and talk with Care Receivers about difficulties they are experiencing in their life.
Stephen Ministers receive 50 hours of training, meeting each Tuesday evening for two-and-a-half hours during training.
Upon completing the 50 hours of training, the new Stephen Ministers will join the Stephen Ministry team.
Click Here to learn more & sign up
____________________
Bike Parade & Ice Cream Social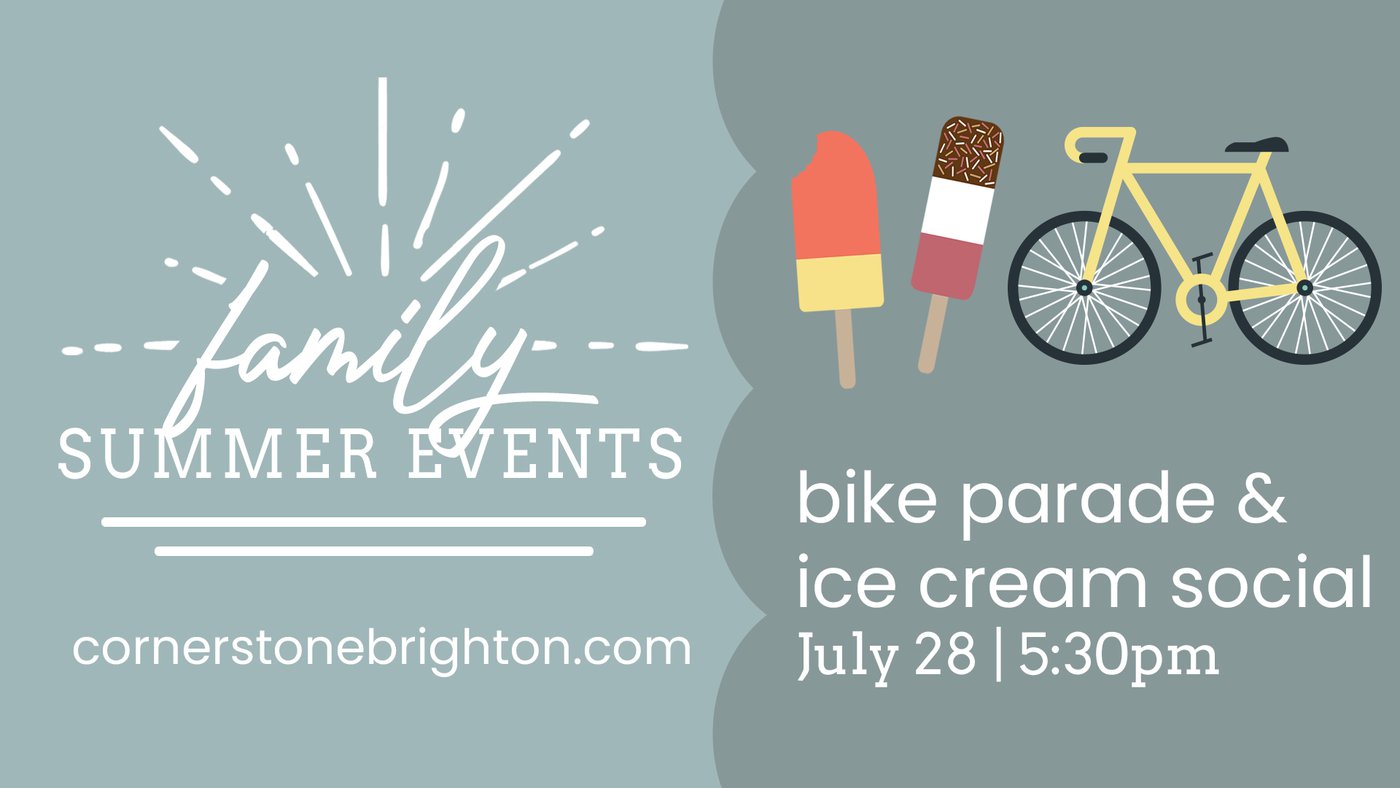 Bike Parade & Ice Cream Social
July 28 | 5:30 PM
Join us for an evening of sweet rides and sweeter desserts! Bring your kids and their bikes so they can take part in the parade.
____________________
Volunteer Opportunities in Flint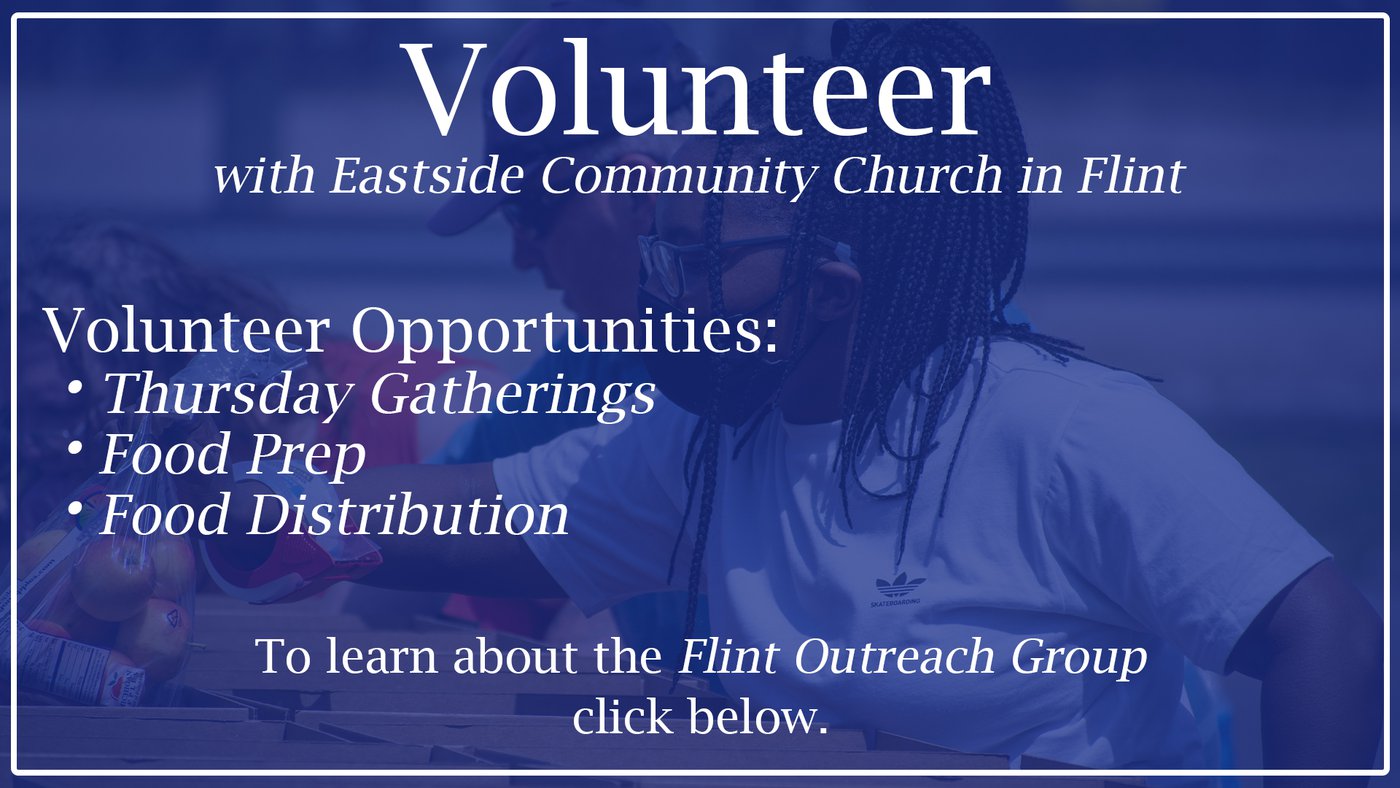 Parent Meeting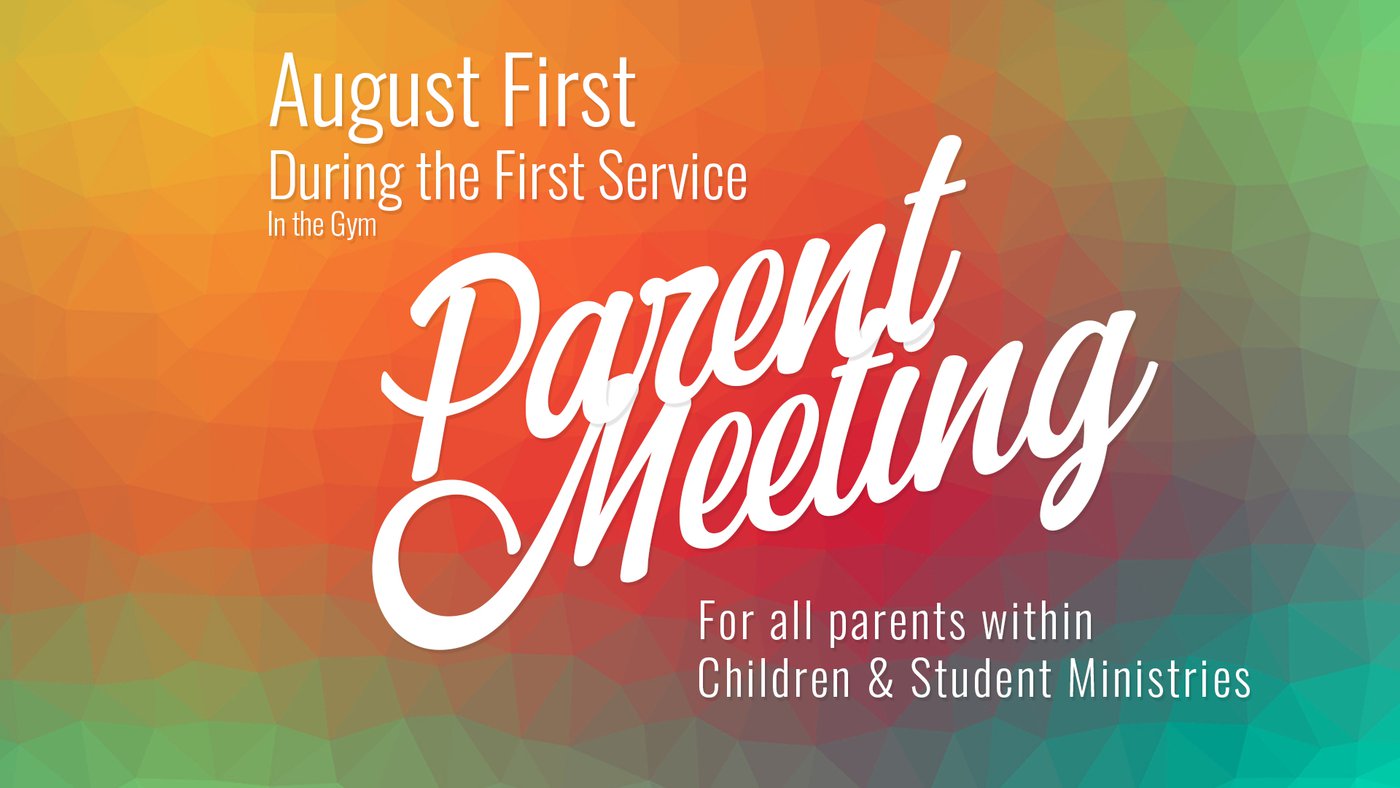 Parent Meeting || August 1
On August 1, during the first service, there will be a meeting for all parents with kids in Children or Student Ministries.
The focus of this meeting will be to highlight some big events in the coming year as well as discuss some upcoming changes.
____________________
Good Cheer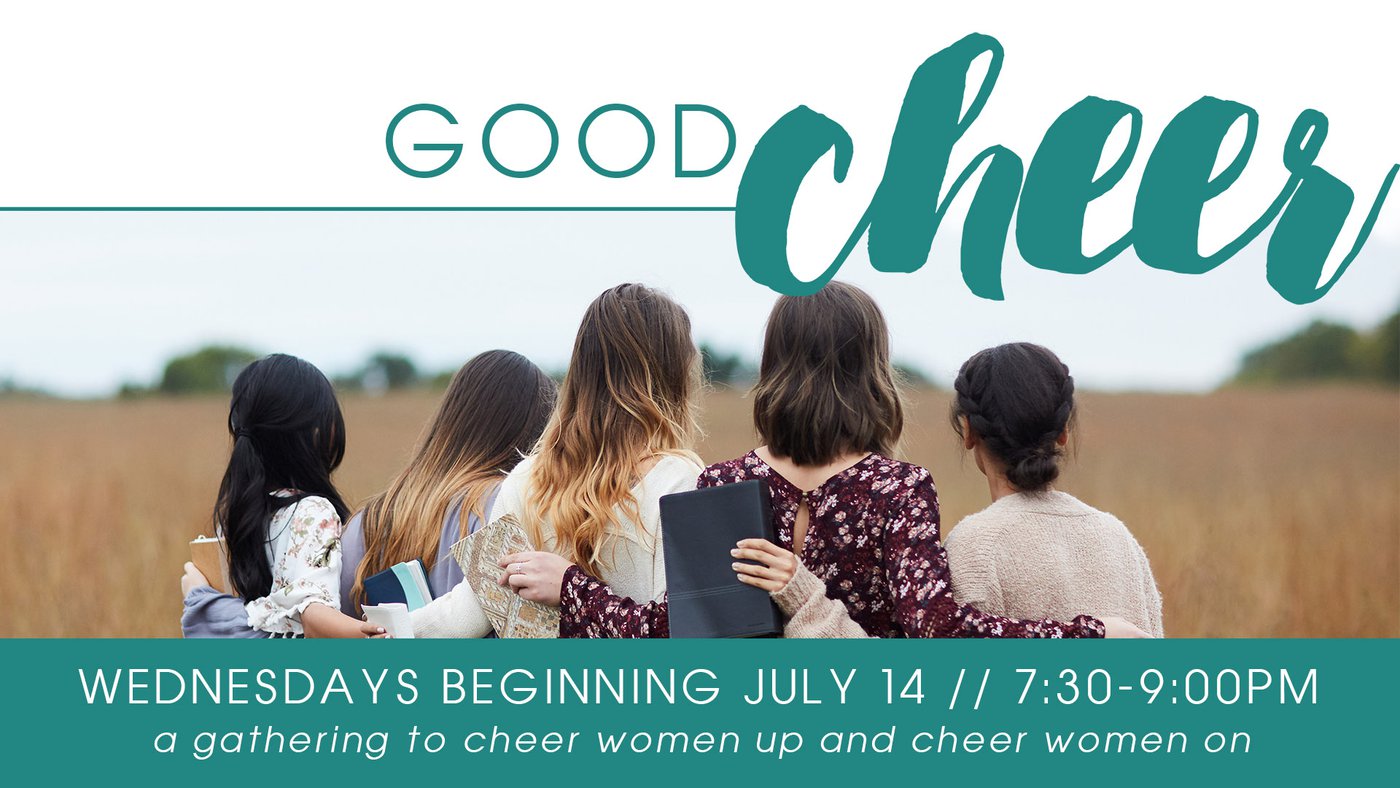 7 Wednesdays this summer
Beginning July 14th & Ending August 25th
7:30pm -9pm
Only $20 for seven weeks (includes workbook)
Come and join us for encouraging friendships & inspirational teachings!
Material Used: "ELIJAH" A video study by Priscilla Shirer.
Registration is closed.
Community Bible Study
Join Community Bible Study to study God's Word!
Two Community Bible Study classes in Brighton will be meeting in person at Cornerstone and online starting on Thursdays this Fall.
To find a Community Bible Study class near you, go to: communitybiblestudy.org.
____________________
Let Us Pray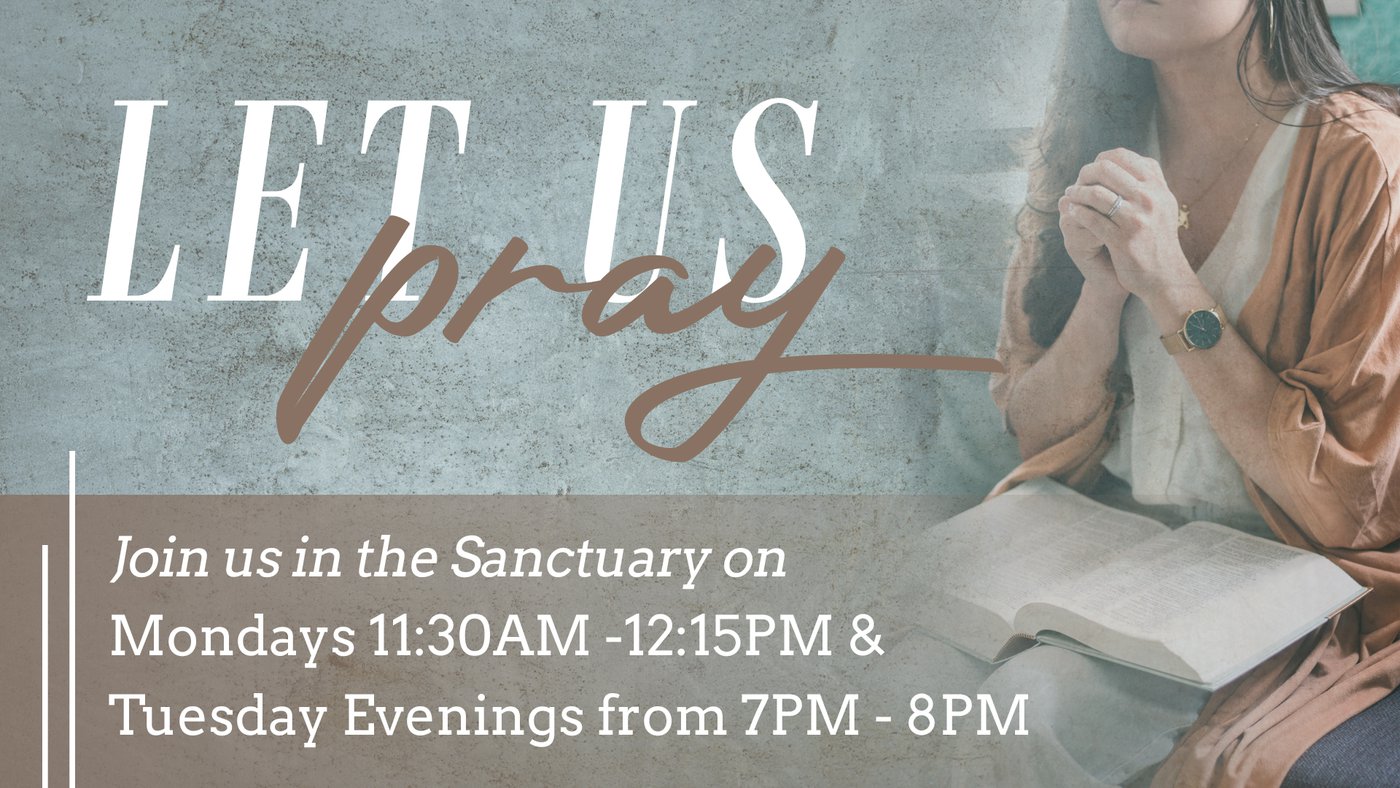 Join us for a time of interceding for the staff, volunteers & ministries of Cornerstone. "Let us Pray" has a new schedule for the summer. We will be meeting Mondays from 11:30 AM - 12:15 and on Tuesday nights from 7:00 PM - 8:00 PM in The Sanctuary.
You can find the prayer schedules HERE.
____________________
Life Relaunch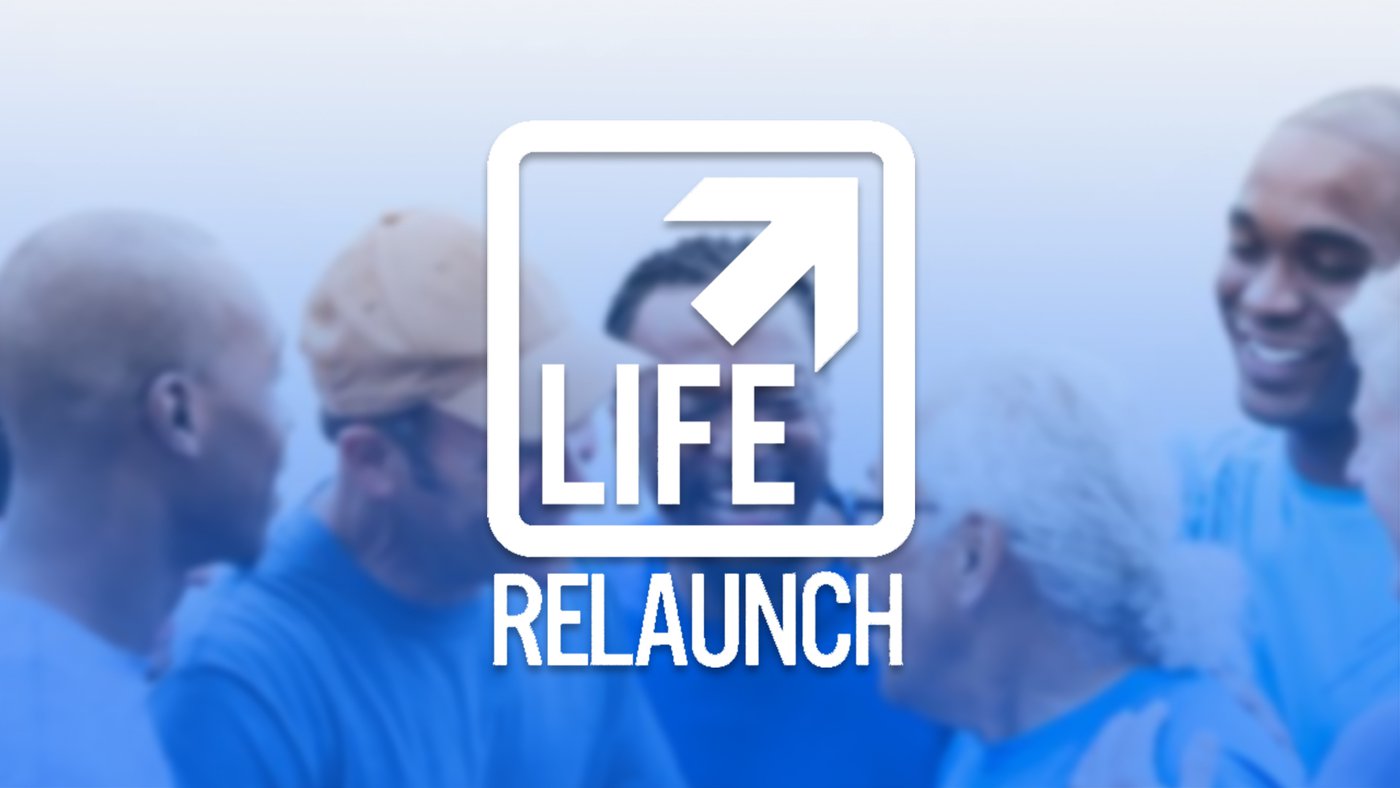 Life Relaunch
Experience Greater Freedom and strength through God's healing grace from heart wounds and soul injuries. You will discover your True Warrior Identity and walk in confidence in your new life.
Dates:
Men: June 25 & 26 July 23 & 24
Women: June 25 & 26 (at Detroit Life Challenge)
For more information:
Men: Jim Proos jim@liferelaunch.org 586-212-0464
Women: Tammy Coffey tamtam77@gmail.com or 517-404-2696
Or visit liferelaunch.org
____________________
Sermon Guides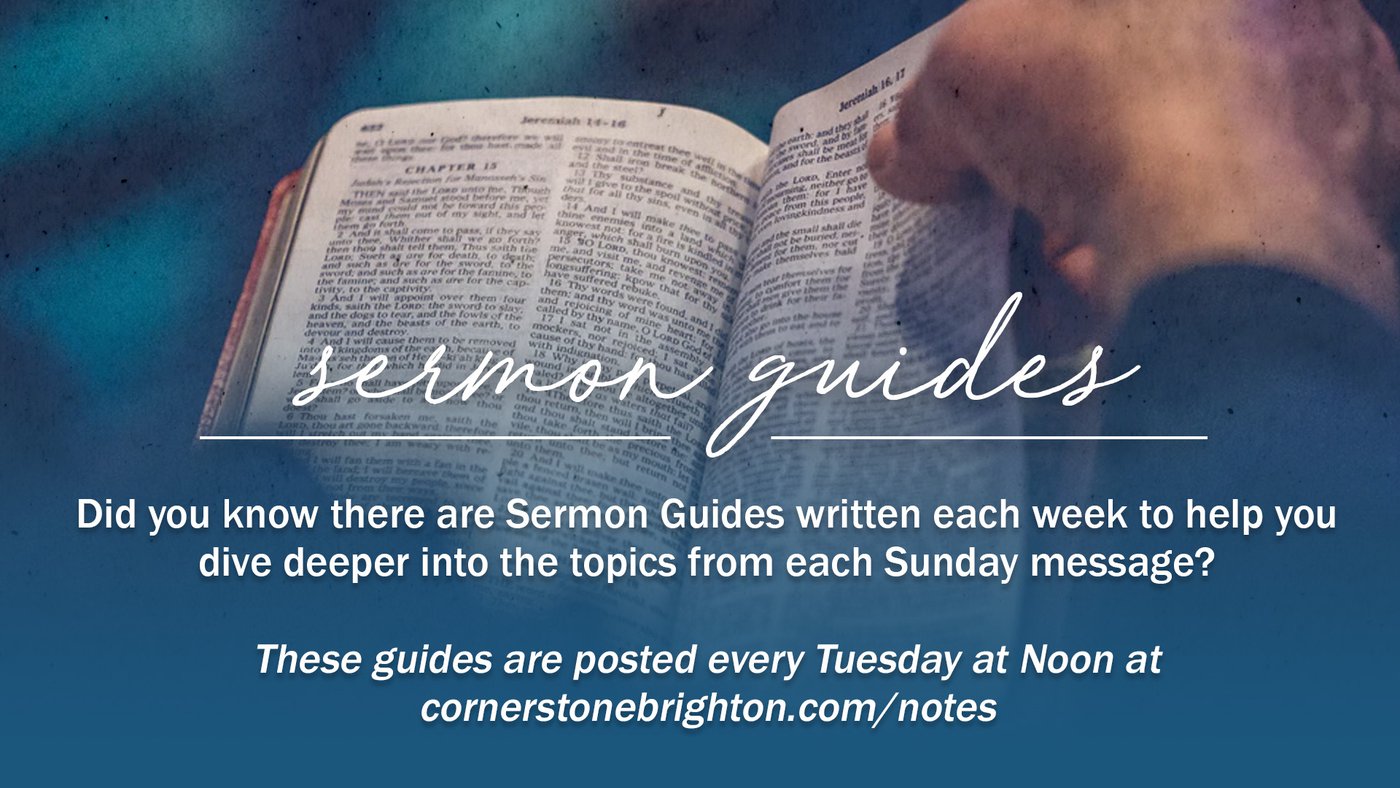 Sign up for New Multi-Purpose Sermon Guides!
Pastor Grimm and his discipleship team are thoughtfully revamping the sermon guides to be useful for personal study, group study, and deeper theological reflection. As a result, the studies are available here on Tuesdays following the sermon, but you can also get them sent directly to your email!
We desire to help you reflect, meditate, and apply the message throughout the week and deepen your walk with Christ through intentional discipleship opportunities with more to come! If you would like the convenience of getting the guides sent to your inbox, then please register for them here. We will send you both the study guide and the answer guide and notify you of groups and classes that will use this material to help you grow in your understanding of God's word.
____________________